Spinach is one of my favorite foods both for its flavor and its incredible nutritional value. Whether it is in Smoothies, salads, main events or side dishes, spinach is a staple around MGP.
Marvin's Super Smoothie
The greens in this smoothie mix are like nature's multivitamin. Include the fruits, flax and yogurt and you get a nice helping of fiber, full-spectrum protein (from the yogurt and the spinach), Vitamins A, C, E, K, folate, riboflavin, B6, calcium, potassium, magnesium, manganese and some other stuff I can't spell that is supposedly good for you. Oh yeah, and OOOOOOOOOOmega 3's from the flax.
Ingredients
A handful of baby spinach leaves
A few small Kale or Collard leaves
Some beet greens or lamb's quarter
One banana
A heaping spoon of ground flax (the more the manlier)
Some Yogurt
Some seasonal fruit (berries, apples, pears, PEACHES, etc)
Instructions
Put the yogurt and banana in a blender, add the fruit and flax then slowly add the greens. Add apple, orange or grape juice to your desired consistency. Drink it.
Marvin's Spinach, Beet and Walnut Salad
Although probably not at healthy as the last recipe, still a good one. You can add variety and texture with apples, kohlrabi, scallions and croutons then top it off with a nice grilled chicken breast. And hey, why not put some fresh ground pepper and grated parmesan cheese on it. Do it. What, you think you should pour a raspberry vinagrette dressing all over this? I like your style.
Ingredients
A few handfuls of baby spinach leaves
A cup of peeled, diced, parboiled and cooled fresh beets
Some crushed walnuts
Any other salad topping your little heart desires.
Instructions
I don't give instructions on making salad, Marvin would frown on such activity.
Marvin's Spinach Quiche
Ingredients
2 cloves of garlic
1 bunch fresh scallions
7 egg whites
1/2 cup feta or goat cheese
1 small potato
4 handfuls of baby spinach leaves
salt and pepper to taste
BACON!
whole wheat pie crust
Instructions
Steam the spinach, or somehow make it soft, it's your call. Once you have done that, put all of the ingredients in the pie plate and put it in the oven at 375 degrees for 20-25 minutes. When you can stick a toothpick into it and pull it out clean, its done.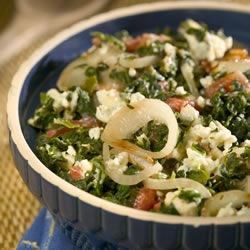 Spinach With A Twist
Ingredients
1 tablespoon olive oil

1 small yellow onion, sliced

1 (14.5 ounce) can diced tomatoes, drained

1 (10 ounce) package frozen chopped spinach, thawed and drained

salt and pepper to taste

3 ounces Roquefort cheese
Directions
Heat the olive oil in a skillet over medium high heat, and saute the onion until tender. Stir in the tomatoes and spinach, and continue cooking until the spinach is wilted. Season with salt and pepper. Stir in the Roquefort cheese, and allow to melt slightly before serving.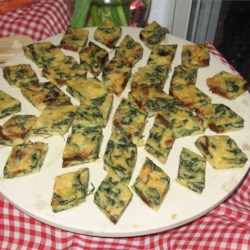 Spinach Brownies
Ingredients
1 lb fresh spinach

1 cup all-purpose flour

1 teaspoon salt

1 teaspoon baking powder

2 eggs

1 cup milk

1/2 cup butter, melted

1 onion, chopped

1 (8 ounce) package shredded mozzarella cheese
Instructions
Preheat oven to 375 degrees F (190 degrees C). Lightly grease a 9x13 inch baking dish.

Place spinach in a medium saucepan with enough water to cover. Bring to a boil. Lower heat to simmer and cook until spinach is limp, about 3 minutes. Remove from heat and set aside.

In a large bowl, mix flour, salt and baking powder. Stir in eggs, milk and butter. Mix in spinach, onion and mozzarella cheese.

Transfer the mixture to the prepared baking dish. Bake in the preheated oven 30 to 35 minutes, or until a toothpick inserted in the center comes out clean. Cool before serving.