I am not sure that many people are willing to give turnips a chance. I want to do my part to change that, and not just because they are one of the first things that pop up in a spring garden, I also really like them. One of the reasons I can say that with a straight face is that I learned the trick to turnips, peeling deeply. I think a lot of the negative press turnip gets is on account of its spicy-in-an-odd-way exterior. The same flavor is still there in the heart of the turnip, it is just muted by a subtle sweetness. Marvin's Garden Produce will grow a few different varieties of turnips in the spring and fall, and hopefully the following recipes will get you past your turnip-phobia. Also, if you are hesitant to try turnips (again), wait until fall and then come and buy some "peel and eat" turnips from me after the first frost. What are you afraid of? After all, they don't look that scary, do they?:
Turnip Bacon Mashup:
Ingredients
2 pounds orange turnip

2 tablespoons butter

1 pinch salt

1 pinch ground black pepper

1 dash garlic powder

1/2 pound bacon - cooked and crumbled

2 tablespoons rendered bacon fat
Instructions
Peel and cube the turnip. Cook in a saucepan in salted water until very tender. Drain then mash with the butter or margarine, salt, pepper and garlic powder to taste. Set aside.

In a skillet fry the bacon until nice and crispy. Remove from the skillet and crumble. Reserve 2 tablespoons of the bacon grease.

To the skillet with the 2 tablespoons of bacon grease add the mashed turnip and crumpled bacon. Stir and heat to the desired temperature before serving.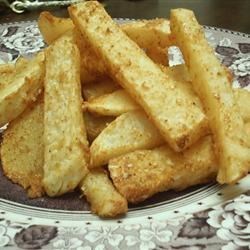 Ingredients
3 pounds turnips

1 tablespoon vegetable oil

1/3 cup grated Parmesan cheese

1 teaspoon garlic salt

1 teaspoon paprika

1 teaspoon onion powder
Directions
Preheat oven to 425 degrees F (220 degrees C). Line a baking sheet with a piece of aluminum foil and lightly grease.

Peel the turnips, and cut into French fry-sized sticks, about 1/3 by 4 inches. Place into a large bowl, and toss with the vegetable oil to coat. Place the Parmesan cheese, garlic salt, paprika, onion powder in a resealable plastic bag, and shake to mix. Place the oiled turnips into the bag, and shake until evenly coated with the spices. Spread out onto the prepared baking sheet.

Bake in preheated oven until the outside is crispy, and the inside is tender, about 20 minutes. Serve immediately.
2 1/2 pounds turnips, peeled and cut into 1/4- to 1/2-inch-thick wedges or sticks (about 8 cups)

6 slices peeled beet

3-6 whole large cloves garlic, sliced

3 cups distilled white vinegar or cider vinegar

3 cups water

2 tablespoons plus 2 teaspoons sea salt

2 tablespoons sugar
Divide turnips among 6 pint-size (2-cup) canning jars or similar-size tempered-glass or heatproof-plastic containers with lids.

Add 1 beet slice to each jar (this dyes the pickles pink) and divide the garlic slices among the jars.

Combine vinegar, 3 cups water, salt and sugar in a large saucepan. Bring to a boil and stir until the salt and sugar dissolve. Boil for 2 minutes. Remove from the heat.

Carefully fill jars (or containers) with brine to within 1/2 inch of the rim, covering the turnips completely. (Discard any leftover brine.)

Place the lids on the jars (or containers). Refrigerate for at least 1 week before serving. Store in the refrigerator for up to 1 month.
Ingredients
1 large turnip - peeled, halved lengthwise, and sliced 1/2-inch thick

2 tablespoons butter, cut into small pieces

1 (12 fluid ounce) bottle dark beer, or amount to cover

1 pinch dried savory

salt to taste
Instructions
Preheat an oven to 350 degrees F (175 degrees C).

Place the turnip in a pot with enough cold, salted water to cover. Bring the water to a boil and cook until the turnips are soft, about 7 minutes; drain. Transfer the turnips to a shallow baking dish. Dot the top of the turnips with pieces of butter. Pour enough of the beer into the dish to cover the turnips. Season with savory and salt.

Bake in the preheated oven until the beer is mostly cooked off and the turnip is tender, about 1 hour.