Some people call kohlrabi a cabbage turnip, I usually just call it delicious. It is not a food item that is regularly on American dinner plates, but I want to do my part to change that. The inside of the kohlrabi "bulb" (which is just a swollen part of the stalk) is kind of sweet and tastes kind of like broccoli stalks and has the texture of an apple.
Mixed Root Roast (Although Kohlrabi isn't technically a root, it fits great in this recipe)
This is a versatile dish because you can substitute different amounts of beets, carrots, turnips, sweet potatoes and even winter squash. I like to keep the beets to less than one third of the recipe so that they don't overpower the other ingredients.
1 part of some of the following
Carrots
Beets
Turnips
Sweet Potatoes
Winter Squash
Kohlrabi (don't forget to skin the kohlrabi first)
1/4 cup coconut oil or olive oil (I like coconut oil for this recipe)
1 tablespoon of pumpkin pie spice
salt,
pepper,
cayenne powder to taste
l. Dice roots into similar sized pieces.
2. Preheat oven to 300 degrees for coconut oil or 350 for olive oil.
3. put the coconut oil in the pan you will use and put it in the oven if it is still solid. (melt the coconut oil)
4. once oil is melted, stir in veggies and sprinkle with pumpkin pie spice (cinnamon, nutmeg, ginger and allspice), salt, pepper and a little cayenne powder.
5. put in the oven for 75 minutes. Why 75 minutes? I don't know, I am making this up as I go, but I swear it is good.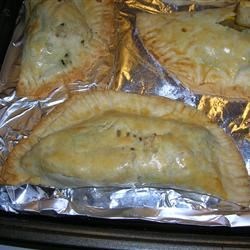 Kohlrabi and Squash Empanadas
Ingredients
1 tablespoon extra-virgin olive oil

1 tablespoon butter

3 cloves garlic, minced

1 (1 inch) piece fresh ginger, minced

2 kohlrabi bulbs, peeled and cubed

salt and pepper to taste

1 large yellow squash, cubed

2 green onions, chopped

1/2 cup chopped fresh spinach

1 pinch ground nutmeg

1 egg

1 teaspoon water

1 (15 ounce) package pastry for a 9 inch double crust pie
Instructions
Heat olive oil and butter in a skillet over medium heat. Stir in garlic and ginger; cook and stir until fragrant, about 3 minutes. Stir in kohlrabi, and season with salt and pepper. Cook and stir until kohrabi has softened, 3 to 4 minutes. Toss in yellow squash and continue to cook until squash is tender for 4 more minutes. Stir in the green onion, spinach, and nutmeg. Add more salt and pepper, as needed. Cook until the spinach has wilted, about 1 minutes. Set mixture aside to cool.

Preheat an oven to 425 degrees F (220 degrees C). Line a baking sheet with parchment paper. Beat the egg with water in a small bowl; set aside.

Roll out the pie crust by running a rolling pin over it once or twice. Cut out about 16 6-inch circles using a large cookie cutter or cereal bowl. Fill the center of each circle with about 1 tablespoon of the kohlrabi mixture. Brush the edges of the pastry with water, then fold the dough in half. Crimp the edge of the dough with a fork to seal, and place on the prepared baking sheet. Repeat with the remaining pastry and vegetable filling. Prick each empanada with a fork, then brush with the egg wash.

Bake in the preheated oven until golden brown and flaky, 5 to 7 minutes. Serve hot from the oven.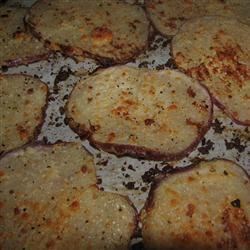 Roasted Kohlrabi Parmesan
Ingredients
4 kohlrabi bulbs, peeled

1 tablespoon olive oil

1 clove garlic, minced

salt and pepper to taste

1/3 cup grated Parmesan cheese
Instructions
Preheat an oven to 450 degrees F (230 degrees C).

Cut the kohlrabi into 1/4 inch thick slices, then cut each of the slices in half. Combine olive oil, garlic, salt and pepper in a large bowl. Toss kohlrabi slices in the olive oil mixture to coat. Spread kohlrabi in a single layer on a baking sheet.

Bake in the preheated oven until browned, 15 to 20 minutes, stirring occasionally in order to brown evenly. Remove from oven and sprinkle with Parmesan cheese. Return to the oven to allow the Parmesan cheese to brown, about 5 minutes. Serve immediately.
Ingredients
2 cups chopped cabbage

4 kohlrabi bulbs, peeled and grated

2 stalks celery, sliced thin

2 carrots, sliced thin

2 tablespoons minced fresh onion

1/3 cup white sugar

1/2 teaspoon salt

1/8 teaspoon ground black pepper

1/8 teaspoon celery seed

1/2 cup mayonnaise

4 1/2 teaspoons apple cider vinegar
Directions
Toss the cabbage, kohlrabi, celery, carrot, and onion together in a large bowl.

Whisk the sugar, salt, pepper, celery seed, mayonnaise, and vinegar together in a separate bowl until smooth; pour over the cabbage mixture and stir to coat evenly. Chill in refrigerator 1 hour before serving.